End Unecessary Euthanasia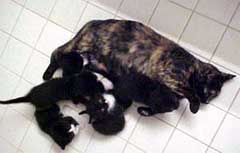 We can't preach it enough: have your pets spayed and neutered. Click here for facts and information about spaying and neutering your pets.
The Spay/Neuter Alliance and Clinic in Ridgeland, SC is the area's only low-cost spay/neuter clinic. SNAC offers free transport from 10 counties in Georgia and South Carolina. SNAC also offers heartworm and FIV/FeLV testing and some shots. Give them a call at 843-645-2500 to schedule appointments for your pets.
Hurricane Preparations for Your Pets
We take for granted that our area has escaped the wrath of hurricanes since 1979. But if we were forced to evacuate, would you be prepared for your pets? Read our evacuation preparation article written by Coastal Pet Rescue president and founder Lisa Scarbrough after she made the evacuation for Hurricane Floyd in 1999 with four cats, two dogs and a bird.
Humane Education from Coastal Pet Rescue
Learn Something New Every Day
You've been a pet parent for years but can't explain why your old dog doesn't like your new kitten. Or maybe you've brought a pet home for the first time and don't know why your unneutered pet won't stop marking every doorway of your house. Learn some solutions to these problems and more by browsing our educational resources pages.

Pet First Aid and CPR
What you would do if your favorite pet quit breathing? Perform Mouth to Snout Resussitation of course! Coastal Pet Rescue donated dog and cat mannequins in 2005 to the American Red Cross Savannah Chapter to offer this unique pet caregiving course. In just 4 hours you will learn basic first aid and how to perform CPR on your pet. You will even learn how to make breathing barriers from common household items! You'fll receive a text book with Pet First Aid solutions and a list of items you can purchase to make a Pet First Aid kit. Even if you don'ft take this course, you should ask anyone who is caring for your pet if they have.
What Do You Mean?
Have questions about some of the terms you've seen throughout our website? Visit our Glossary page to learn more.
Additional Resources