Before You Adopt
New Dog in the House - Tips and Rules for Welcoming an Adopted Adult Dog into Your Home

New dogs come to us in many ways. Sometimes we have the luxury of preparation, sometimes they literally show up on our doorstep. Here are ways you can prepare your home and your family for welcoming your new pet. Read Article

Before You Adopt

If you are considering acquiring a pet, ask yourself the following questions: Read Article

Introducing a New Pet

You've been a pet parent for years but can't explain why your old dog doesn't like your new kitten. Get tips for introducing a new pet to your home courtesy of Nestle Purina PetCare Company. Read Article

Crate Training Your Dog

New to crate training? Download this helpful PDF. Your pet will thank you!

Puppy Care Kit

Download this PDF to help you in bringing home your new puppy!

Kitten Care Kit

Download this PDF to help you in bringing home your new kitten!

CPR Adoption FAQ
Low-Cost Spay/Neuter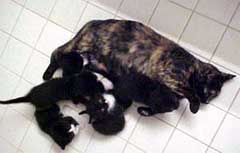 The Spay/Neuter Alliance and Clinic in Ridgeland, SC is the area's only low-cost spay/neuter clinic. SNAC offers free transport from 10 counties in Georgia and South Carolina. SNAC also offers heartworm and FIV/FeLV testing and some shots. Give them a call at 843-645-2500 to schedule appointments for your pets.
Georgia State Law mandates spaying and neutering of all adopted pets from any municipal, public or private shelter or animal rescue. Coastal Pet Rescue's adoption fee covers the cost of this service prior to adoption or when puppies or kittens are of age for surgery. Learn more about the facts and myths of spaying/neutering your pet.
Hurricane Preparations for Your Pets

We take for granted that our area has escaped the wrath of hurricanes since 1979. But if we were forced to evacuate, would you be prepared for your pets? Read our evacuation preparation article written by Coastal Pet Rescue president and founder Lisa Scarbrough after she made the evacuation for Hurricane Floyd in 1999 with four cats, two dogs and a bird.

Dog Bites

Georgia Law requires yearly rabies vaccinations for all dogs and cats. Do you know what to do if you are bitten, or if your dog bites someone? Read more to find out what you need to do in those situations.

Pet Health

Heartworm Disease: What You Need to Know

Cats and Ringworm: The Ugly Truth

Best-Selling Human Medications—and What Happens When Pets Eat Them

What NOT to Feed Your Pet

Contributors
Useful Links
Animal Welfare
Pet Travel
Pet Sitters
General Resources
Shop for Your Pet
Just for Fun
What Do You Mean?
Have questions about some of the terms you've seen throughout our website? Visit our Glossary page to learn more.