Get to Know Us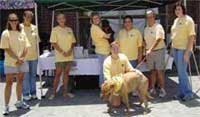 We're a young organization, but we're making a difference in our community. Since Coastal Pet Rescue was founded February 5, 2003, the organization's volunteers have worked together to save over 1200 pets. We're animal lovers trying to change lives, one at a time.
Coastal Pet Rescue does not operate a shelter. All our pets are in foster homes. Appointments to see pets may be made once an adoption application has been completed and reviewed.
Social Networks
Join Coastal Pet Rescue online at these social networking sites:

Who is Coastal Pet Rescue
What We Do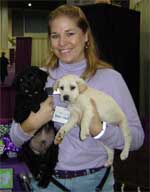 Coastal Pet Rescue offers multiple services for our community. First and foremost, we provide pet rescue to homeless pets through local county animal shelters, placement assistance for owners needing to rehome their pets, and a feral cat trap-neuter-return program. We also serve as an educational resource to the community, providing humane education opportunities and low-cost microchipping clinics. Learn more>>>
Coastal Pet Rescue Mission Statement
Coastal Pet Rescue is an all-volunteer 501(c)(3) non-profit animal rescue organization based in Savannah, Georgia dedicated to saving the lives of homeless, abused and neglected dogs and cats in the Coastal Empire Savannah and Lowcountry South Carolina areas.
Coastal Pet Rescue provides:
Rescue, foster care, veterinary care, and sterilization for animals in Georgia and South Carolina county animal shelters that would otherwise be euthanized.
Assistance to other animal rescues and shelters throughout Georgia, Florida and South Carolina needing to relocate rescued pets.
Foster care for animals surrendered by their owners who either can no longer provide for the pets or no longer wish to have them in their homes.
Adoption of rescued pets to qualified homes that have been properly screened and counseled by our adoption coordinators and foster parents to maintain the pet in the home for a lifetime.
Training of leadership team members and volunteers in the areas of humane education, animal welfare, animal behavior and care, and disaster response.
Education to the public in the form of adoption counseling, pet behavior consultation and training, hurricane evacuation planning, media interviews, and classroom presentations.
Coastal Pet Rescue Organization Vision
Coastal Pet Rescue is recognized as a major resource for the welfare of homeless, abandoned and abused companion animals in Savannah. Our goal is to lower euthanasia rates at our county animal control by:
Bringing adoptable pets into our program for medical and social rehabilitation and re-homing.
Providing resources to pet owners to encourage their responsibility and commitment to their pets and prevent them from contributing to the homeless pet population (i.e. spay/neuter awareness, microchipping, etc.).
We want to be a valuable resource to our community. We believe that one person can make the difference in the life of an animal in need, so as an organization, we have more strength to help more animals.